From managing, creating and editing your tags, triggers and variables, you can do it all from one place inside ClickFlare.

The Tag Manager Menu can be found at the bottom of the bar on the left of your view; right below Logs.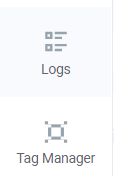 When you open Tag Manager, you'll be presented with a list of your existing Containers, in case you haven't created any new containers yet, do so by clicking on the New Container button. Follow our guide here on how to create your first container.

In case you have a large number of containers in your account, you can easily find one by using the search feature, or the filter option.
To open a container, just click on it.

From here you can begin adding your Tags, Triggers and Variables. You'll find links on how to add each of them below.
Adding a New Tag
Adding a New Trigger
Adding a New Variable

Go back at your list of containers by clicking on Back to Containers.
You can copy a container's script just by selecting copy.